Blazin' Fast Speeds at Stable Affordable Prices!
BlazeConnect is carried on a state of the art next generation fiber optic network.
Watch YouTube videos with no skipping or buffering.
When using slower connections YouTube will stop the video and buffer. Sometimes if your connection is a faster but not fast enough it will play 10 seconds and then skip. This makes for a poor viewing experience and a lot of waiting just to see a video. Our BlazeConnect offers faster speed for people who need the extra boost for gaming and streaming.
Watch Netflix, Hulu, Vudu, Apple TV, Chromecast and other streaming video services without issues.
BlazeConnect works with all the streaming services. You could stream a movie and play an Xbox game online and still have plenty of speed left for streaming a movie on a few other devices. If you plan on watching High Definition streaming video we suggest a minimum of 18Mb/s or faster service to use multiple devices.
Unmetered Broadband.
Big Cable has bandwidth restrictions and limits. Big Cable charges you $15 per gigabit over their cap because you streamed too much TV or your kids had a gaming party. On BlazeConnect there is no meter running. Do what you want, worry free! No surprises on the bill.
Play games online without being left behind.
If you play a game online you know it's all about ping time and lag. There is NO lag with BlazeConnect. The network is engineered to eliminate conversions from one network platform to another. These conversions slow you down and reduce dependability. We offer download speeds ranging from 6Mbps to 5GBbps! (Speeds depend on distance from your local neighborhood fiber terminal or if we have Fiber to your Home)
Get service without an active phone line.
You don't need a phone line to get BlazeConnect. We will have a connection setup to your location and provide service independent of existing cable or phone lines.
This offers a rock solid 99.9% uptime connection.
We offer many speeds and price points.
Use any device, wired or wireless.
BlazeConnect service includes a wireless WIFI router, Big Cable charges an extra $14 a month for WiFi. Enjoy full speed on your laptop, iPad, iPhone or Android devices. We can remotely manage the wireless channel the device operates on, so if there's interference with a neighbor or a smart meter we can work in your environment.
Coverage Map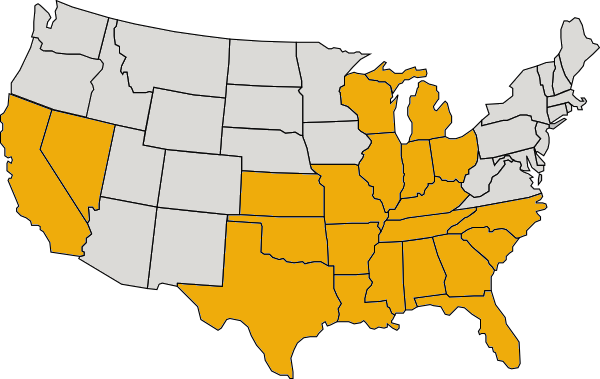 Gold is BlazeConnect Service areas